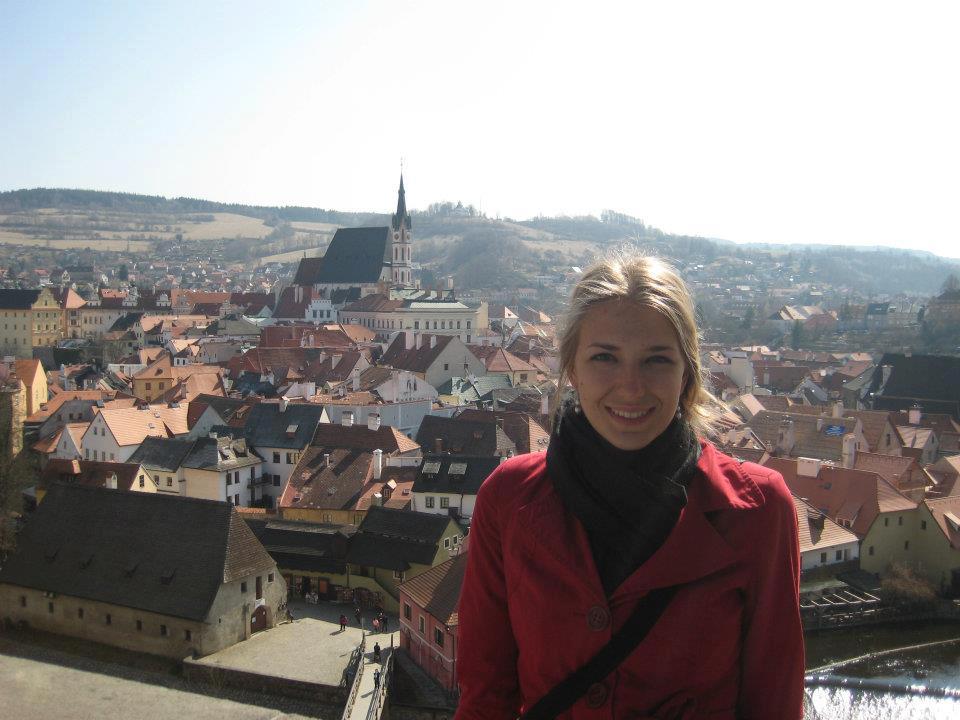 Amanda Chalupa is a Polish-Montrealer working on her PhD in Social & Transcultural Psychiatry at McGill. She met Jonathan through the Polish-African community in Montreal in 2009, and their paths have crossed many times over the years, through her research alongside the development of Memory Is Our Homeland. We spoke in October 2016 about her personal connection to her work, why many of the Polish camps post WWII were generally positive environments, and what it felt like to trace her grandparents' steps in Tanzania.
How did you meet Jonathan, and how has your collaboration evolved over the years?
A Polish priest working in Tanzania, Wojciech Adam Kościelniak, was hosting an event in Montreal to meet with Poles who had been in Africa during WWII. I drove my grandmother, who had been in a camp in Tanzania, and stayed with her for the event. This is where I met Jonathan - we were the only two guests under 60, so we started talking and realized that our grandmothers had been in Tengeru together. Being in CEGEP at that time, I was just starting to explore this history more in-depth from an academic approach. Initially, it was just great to have someone from my generation to talk to about this history. We gave a couple of presentations together about the history and the early outputs of our respective work. Over the years, both Jonathan and I started asking similar questions, having similar insights, and attending the same Polish-African reunions. For the last few years, our collaboration evolved from sharing an interest in a similar family history, to greater involvement on my end in the production process of Memory Is Our Homeland and discussions with Jonathan that inform my research.
What's the focus of your PhD, and how did you end up pursuing this field?
I study how child migrants rebuild their lives on individual and community levels, and what policies facilitate these processes. In particular, I meet with Polish people around the world who were sent to Soviet labour camps as children during WWII. My work underscores the role of memory in troubled times; when migrants are often negatively perceived and treated. I ended up pursuing this research through a lifetime of experiences related to my family history. As a child, I tried to understand why soldiers wanted to kill my grandparents when they were children. In high school, I started to question why no one knew about the thousands of Polish children who grew up in refugee camps around the world. Then in CEGEP, I was puzzled by discrepancies between my family's  refugee camp experience and that of current refugees - the former being relatively positive and the latter often horrific. During my undergraduate studies, I dove into the literature and resurfaced with answers constructed from various disciplines… and with more questions. I met with survivors around the world and learned the value of oral history.
How would you describe the experience of Polish refugees migrating post-WWII and their connection to a sense of homeland?
The Polish government-in-exile operating out of London was largely involved in the movement of Polish people around the world. Most of the refugee camp management was done by Poles, many of whom had gone through the gulags as well. Schools and Scouts groups were established for the children. Children were also encouraged to think of themselves as the future of Poland -  there was a strong hope to return home after the war. Post-war politics and border changes, however, made this out of the question for many. The experience of the Polish refugees after WWII was varied depending on many factors such as their age, the country they moved to, whether they ended up in a big or small city. Some were resettled with family, some were young adults looking for work, and others were orphans who were adopted along with others from of the community of Polish-Africans.
Through anecdotes from Jonathan and in the film, it's clear that many Poles have positive memories of their time in African refugee camps. This seems contradictory, especially given the negative reputation of most refugee camps today. Are there any successful strategies from the Polish settlements that would be relevant today?
From my research, it appears that social supports and social activities contributed to these positive memories and preparation for later parts of their migration journey. These included schools, theatre groups, "safaris" (trips), dance groups, Scout groups… there was a sense of routine and things to look forward to. Most of the camps were self-managed, so adults felt empowered and had routine too. Of course, the scale and size of the camps were very different from today. But there is something to be said for creating such safe spaces.

What was your impression on your first trip to the former refugee camp in Tanzania where your family once lived?
Walking through the gates of the Polish cemetery in Tengeru was like stepping into an oasis. It was peaceful, tidy, and organized. It was full of life, trees, flowers, and stories. Jonathan and I also explored the surrounding area - dirt roads, crossing the river, pointing out old buildings, and sitting by Lake Duluti. The experience of this trip added colour, sound, and warmth to my grandparents' photos and stories.
For more about Amanda, check out her work in Social and Transcultural Psychiatry at McGill, or her contributions to the Polish diaspora journal Cosmopolitan Review.