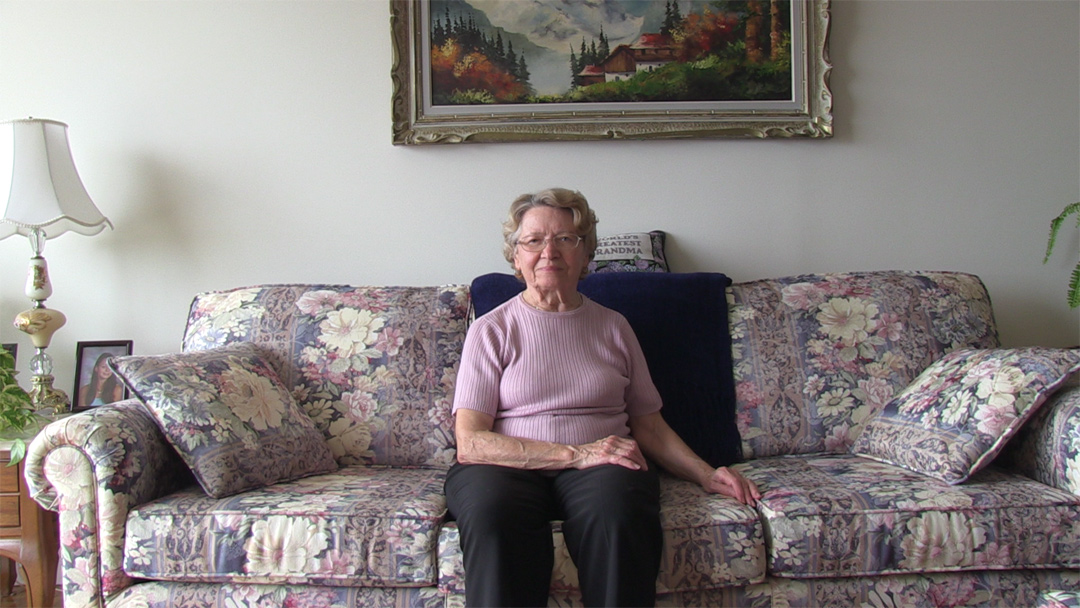 Kazia Kolodziej (née Gerech)
December 24, 1928 - October 10, 2012
We meet Kazia Kolodziej in Montreal, as she remembers - sometimes vividly, sometimes with less clarity - her experiences of the Second World War and the devastating impact that it had on her family as she recounts them to her Canadian grandson, Writer and Director of Memory is Our Homeland Jonathan Durand.
Growing up on a farm in rural Poland near the village of Ostrówek in the 1930s, Kazia was the third of five children. She was nine years old when the war broke out, and it was not long before her entire family was deported to a labour camp in Northern Russia, close to the Arctic Circle. Conditions were difficult in the camps, to say the least, with any available food being distributed according to the amount of work done by each person. Children thirteen years and above, including Kazia's older sister and brother, were expected to work as labourers, but Kazia and her younger brother were sent to a Communist re-education school. When the Nazis invaded the USSR and the Poles were granted amnesty by Stalin, the Gerechs made their way 4000 km to Uzbekistan, where the Polish Army was forming. Her father was recruited as a soldier and sent off to fight in Egypt, while Kazia travelled with her mother and siblings to Tehran, where they stay for about nine months.
In June of 1943, Kazia and her family got a bit of a break and boarded a ship for a British-controlled/Polish-run refugee camp in Tengeru, Tanzania, where they lived for the better part of the next six years. After the horrors of Siberia and a tortuous journey through Central Asia and the Middle East, Kazia was able to settle down and attend high school with other Polish children who had gone through similar experiences. While not exactly the same as going home, the Polish-African camps provided a much-needed sense of normalcy, community, and hope for an eventual return to their homeland. Although often sick with malaria and in and out of the hospital, as a teenager Kazia was generally able to participate in Polish-camp life, joining scouts, going on safaris, discovering the exotic African flora and fauna, and playing with Polish and Tanzanian children in the nearby river.
By the late-1940s, at the age of 20, it became clear that there was no longer a "homeland" to go back to, as the area in Poland where Kazia grew up had been incorporated into the Soviet Union, and her family, along with tens of thousands of other displaced Poles, was forced to make other plans. After the British government officially recognised the Communist government in Warsaw, they offered to resettle the Polish refugees still in the camps. Kazia's family was resettled in Sheffield, England, while other Poles are dispersed in countries as far afield as Australia and Canada.
In England, Kazia had her first taste of freedom, getting a job as a carpet weaver in nearby Halifax, living in a residence with other young Polish women, then meeting her husband-to-be. Having already turned down several marriage proposals, something immediately clicked with Janek, and they were engaged to be married shortly thereafter. While Janek had adventurous plans to settle in Australia, Kazia thought Canada was a better compromise, offering the opportunity for a new beginning, yet staying relatively close to her family in the UK.
While Kazia's first few years in Canada were challenging as a recent immigrant separated from her parents and siblings, she found refuge in friendships with her Polish cousins in Montreal, many of whom had also spent time in East African camps during and after the war. While her husband Janek found work as a mechanic, Kazia was busy looking after their four young children in Lasalle.
Life carried on, and Kazia began to plan a 25th wedding anniversary trip with Janek to Poland in 1975, which she hadn't returned to since childhood. Before they get to go, however, Janek unexpectedly passed away. She interpreted this as a bad omen and vowed never to return to Poland. At the age of 44, with three children still at home, Kazia was forced to find work outside of the home. A job at Canadian Tire doesn't last long due to a manager who doesn't think her French is up to snuff, but she had better luck at a bakery in Rosemont, where she worked until retirement.
You could say the details of Kazia's life in Canada were somewhat simple, a modest existence not unlike many other immigrants who work hard to pave the way for better lives for their children. Yet Kazia never took this for granted. She carried herself with a quiet dignity, not easily phased by the trappings of Western social norms. Her experiences in Africa remained deeply with her, as a time of adventure and discovery, of liminality between a traumatic childhood and the hard work of adulthood that lay ahead. Discover her story as it unfolds in Memory is Our Homeland, in her own voice, and those of her friends and family.