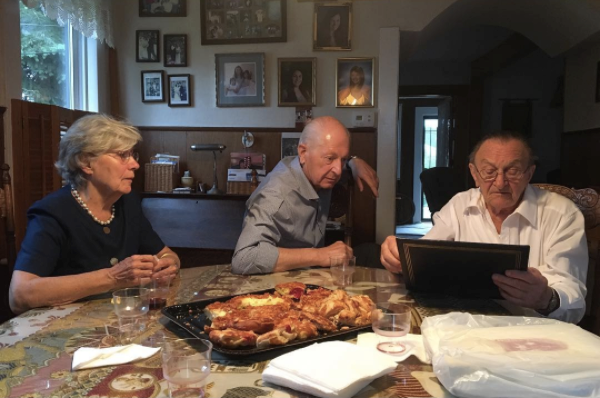 On the weekend of June 17th, I traveled to Redding, Connecticut with my frequent collaborator Amanda Chalupa to reconnect with a group of Polish orphans who ended up in Tengeru, Tanzania during World War II. This annual gathering of about 65 people has been happening every year for over 6 years, to celebrate the birthday of Lucjan Krolikowski, the Franciscan priest who brought 150 young orphans from Tanzania to Montreal in 1949. He turns 98 this year, but the reunion shows no signs of slowing down. We gathered at the home of Brunia Marzan, one of orphans, with guests who had traveled from Montreal, Toronto, New Jersey and New York and beyond, to share stories about the past and reconnect with old friends.
The first time I made the trip was in 2015, after my grandmother had passed away, with the goal of meeting people who had lived similar experiences and could inform the narrative I was trying to build for Memory Is Our Homeland. Every year, I've met many Polish WW II survivors who are keen to share their stories of growing up as orphans in the Polish camps in Tengeru and elsewhere. While this was a formative experience for people like my grandmother and great-aunt, it was even more so for this group of orphans, who, having lost their parents, had to build a new support network amongst themselves. Through the friendships they made with each other and the priest Father Krolikowski, they were able to forge new identities and a sense of family, which they've held onto to this day.
From my perspective, it's been fulfilling to be so warmly welcomed by these people. I felt like more an outsider three years ago,but  today, as other younger generations join the gathering, expressing an interest their unusual personal family history, I'm able to share the resources that have been helpful to me over the years in terms of tracing genealogy and finding family records that have sat in archives since the end of the war. In this sense, I see myself as a sort of historical custodian, ensuring the perennity of these stories of strength and survival for future generations.